Hitting the stage again in 2023!

Take a look back...
2022 The Black Box, KCMO
KANSAS CITY, MO (August 8, 2022) - Grab your friends, hire a sitter and get ready to laugh your abs off… MotherFreakingHood! The Musical, the uproarious musical comedy celebrating the world's second-oldest profession, returns to Kansas City, running at The Black Box for ten performances September 7 - 16.
After debuting in Kansas City at the Goppert Theatre in 2015, MotherFreakingHood! enjoyed a limited off-Broadway run at the 2017 New York Musical Festival in New York City, receiving rave reviews and continuing its development in Chicago and Kansas City. Fishtank Theatre's production of MotherFreakingHood! at The Black Box run marks its first public presentation since COVID-19 closed theaters nationwide.
"This is more than a show; it is a full experience that gives mothers a place to laugh at the absurdities of child-rearing and reminds them they are not alone," says co-playwright Julie Dunlap, Lawrence, KS. "We are so excited to bring this labor of love back to Kansas City."
The irreverent yet sentimental musical comedy follows first-time mom Rachel, second-time mom Angie and fourth-time mom Marcia as they sing and dance their way from their pregnancy tests to empty nests. The uncensored trio take on the world with unmotherly charm, discovering that this inconceivably hilarious adventure is best shared with friends.
Produced by Fishtank Theatre, a stalwart in Kansas City's performing arts community, and directed by Heidi Van with all-original live music under the musical direction of Julie Danielson, MotherFreakingHood! will feature local stars Teri Adams, Andrea Bosewell-Burns, Celia Thompson, and Meredith Wolfe.
"We are so appreciative of the enthusiasm of our Kansas City fans and the extraordinary talent Heidi (Van) and her cast and creative team deliver," says co-playwright Sara Stotts, Chicago.

Tickets for MotherFreakingHood! at The Black Box can be purchased at https://mfhkc.eventbrite.com.
2017 New York Musical Festival
MotherFreakingHood! was selected as an Invited Production in the 2017 New York Musical Festival, the largest annual musical theater festival in America at the time
MotherFreakingHood! ran August 1-6, 2017 as a part of the New York Musical Festival, receiving a Best Lyrics nomination for the all-original soundtrack and an Outstanding Individual Performance award for Harriett D. Foy (Marcia Burger). Julie and Sara extend deepest gratitude to Dan Markley, Rachel Sussman and Liz Ulmer and the team at NYMF for the opportunity to showcase this labor of love and those whose contributions made this a smashing success.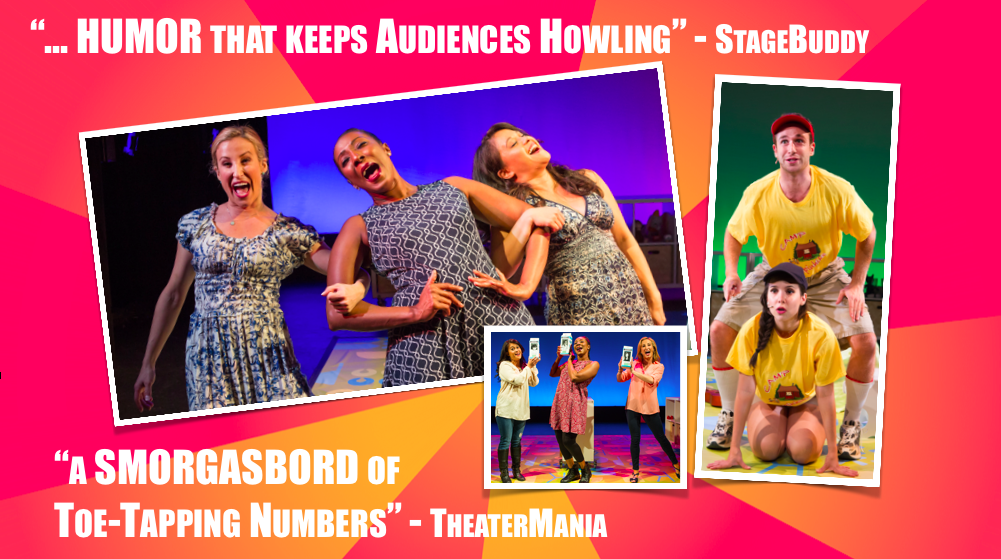 Photo Credit: Jeremy Daniel Photography, featuring scenes from the 2017 New York Musical Festival production. Book, Music, Lyrics by Julie Dunlap & Sara Stotts. Directed by Terry Berliner. Music Driection by Daniel Doss. Top Left (from left): Erin Leigh Peck, Harriett D. Foy, Veronica Reyes-How. Bottom (from left): Veronica Reyes-How, Harriett D. Foy, Erin Leigh Peck. Right (from top): Jimmy Brewer, Annie Dow.
Cheers and many thanks to our Presenting Sponsors!