Creative Team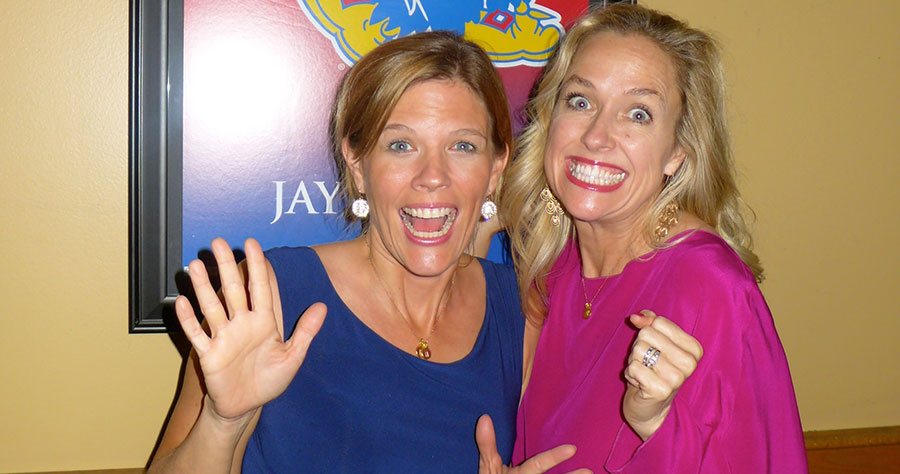 Julie Dunlap and Sara Stotts
met as college students at the University of Kansas while writing a short musical for the university's variety show, "Rock Chalk Revue." They quickly formed a lifelong friendship built on a shared love of musical theatre, quarter draws and a special crush on Air Supply.
Julie, a Kansas City native, spent the next two decades with her husband, Dave, using her Human Biology degree to make four humans. After blogging her adventures in motherhood, she was picked up by the Lawrence Journal-World to write a weekly humor column. Within three years, though, she no longer felt 500 words each week fully expressed the stories that made up her days as a mom.
Sara grew up in Ponca City, Oklahoma (an actual place on the map). After graduating from KU, Sara earned her Master's Degree in Physical Therapy from Northwestern University. While in Chicago, she studied improvisation at both the Annoyance Theater and The Second City. There she seasoned her funny bone and honed her music writing skills as the former front woman of the funk-blues band, Chubby Nothin' and the Bone.
After 20 years of friendship, several bottles of wine and an appreciation for the uncensored realities of motherhood, the two teamed up to write MotherFreakingHood! With the primary goal of celebrating unsung heroes with unsung songs, the musical comedy became a labor of love; they found that writing a musical, like motherhood itself, is an adventure best shared with friends.
Julie resides in Lawrence, KS with her husband and their four kids (except for the one in college) where she fits an unbearable amount of laundry in between freelance writing gigs and co-hosting her monthly television talk show, Living Local. Learn more about Julie in her interview with Theater in the Now
Sara resides in Wilmette, IL (a bigger place on the map) with her husband and their two kids -- who now believe every mommy sings lullabies at night just like Mary Freaking Poppins. She owns and practices physical therapy at Millennium Wellness Group in downtown Chicago. Learn more about Sara in her interview with Theater in the Now