The Mother of All Adventures...
Rachel, wide-eyed and optimistic, is thrilled to finally put her party days behind and become a first time mom... #YAY!
Meanwhile Angie has kept to her planner and has already enrolled her unborn child into the most exclusive all-girls preschool (definitely a girl, she already has boy).
After three kids, Marcia was done. Or so she thought. Is it bad she doesn't want to cancel her wine of the month club and would rather be on a beach?
Featuring "clever, irreverent and inventive" (Robert Trussell, Kansas City Star) all-original songs by Julie Dunlap and Sara Stotts and "so much humor that like the movies Airplane and The Naked Gun it must be seen several times to catch it all" (Steve Wilson, BroadwayWorld.com), MotherFreakingHood! has entertained audiences from Kansas to New York City, including its most recent production at The Black Box in KCMO produced by Fishtank Theatre, September 2022. Future productions are in the works (as you are reading this!) for 2023.
Check out the gallery below for a peek at past performances!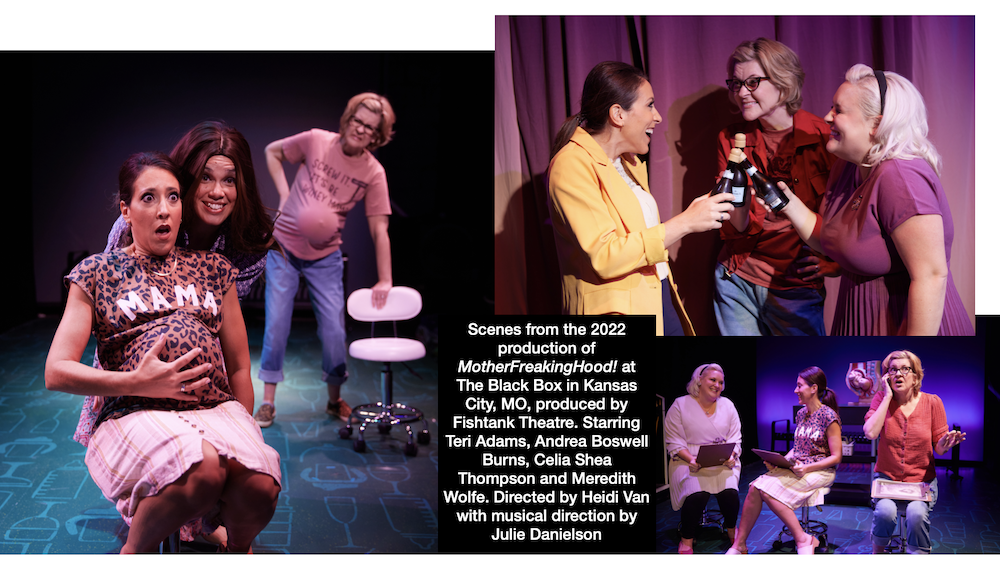 Video features scenes from July 2017 press event for MotherFreakingHood! at the 2017 New York Musical Festival. Book, Music, Lyrics by Julie Dunlap & Sara Stotts. Directed by Terry Berliner. Music Direction by Daniel Doss. Starring Veronica Reyes-How, Harriett D. Foy, Erin Leigh Peck. Also starring Jimmy Brewer, Annie Dow (not filmed here). Video credit: Matthew Gurren. Publicity: Richard Hillman Public Relations